Special Offer for members
GROW YOUR BUSINESS WITH MOBILE MARKETING!
* REACH YOUR CUSTOMERS FAST
* MOBILE PHONES ARE CHECKED MORE THAN 150x A DAY
* 70% OF CONSUMERS WANT TO RECEIVE MOBILE OFFERS  

SPECIAL OFFER $99/MONTH
You get an easy to use mobile marketing system and service.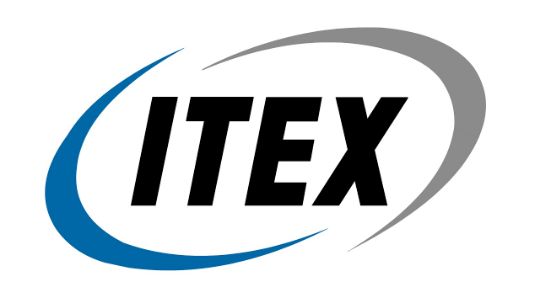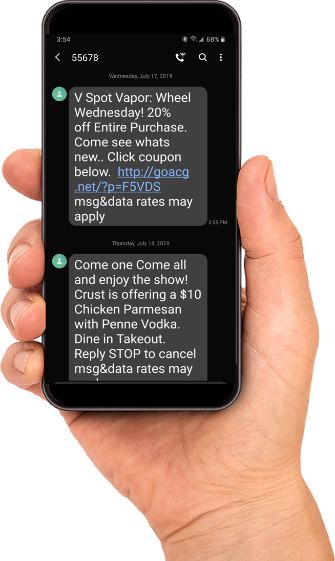 Build your word of mouth, Grow Your Customer List and engage your customers. 
here's what you get

Schedule mobile text campaigns for driving awareness, sending coupons, get referrals, build leads, and grow your customer base.

unlimited opt-ins and sign ups
Go ahead build a massive database
2,000 messages, Offers, coupons or promotions
It's easy to grow your sales when you can send offers instantly. 
automate promotions
Deliver automated campaigns by text message including: Thank You, We Miss You, happy birthday wishes, thank you notes, and happy holidays to your customer's mobile phones on auto-pilot.
EXCLUSIVE OFFER
For itex members
$99/month for full service mobile marketing, TXT Message, kiosk & coupons $AVE $40/month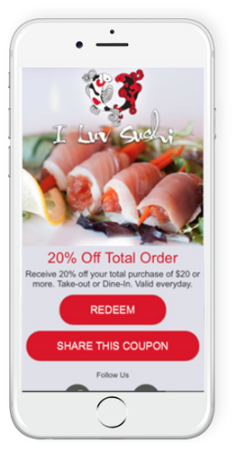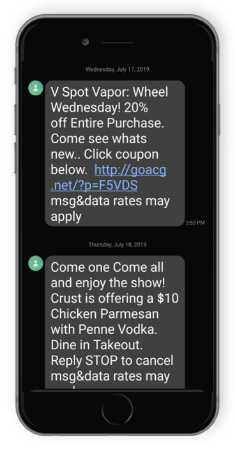 Mobile Copuon, KIOSK & Marketing
Complete and full service mobile and text marketing solution for your business
Mobile Marketing Platform
Quick and Easy marketing platform send bulk messages, engages customers, and send redeemable coupons to a customer base. Get patron frequenting your business more often, increases how much they spend, grow your word of mouth and more!
Access your marketing platform ANYWHERE and on ANY DEVICE.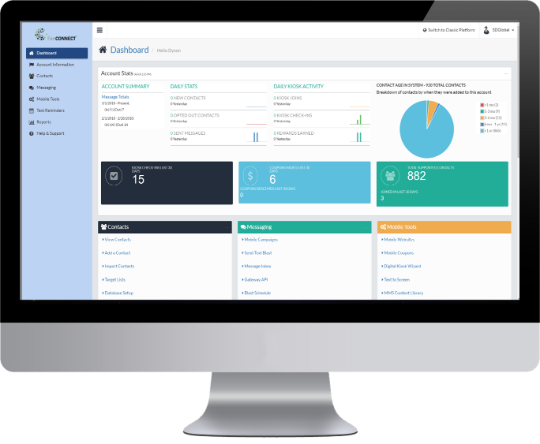 Customer CRM, Campaign manager, Text Reminders, Coupon Manager, Birthday & Anniversary club, Engagement tools.
Reach one customer or many with built-in campaign manager, target and engage, single or multi tier loyalty, send a coupon, update an offer and more.
CLOUD BASED CRM, COUPONS AND CAMPAIGNS

No software to install.  Quick and easy access to  customers, offers, campaigns and reports.
Stay in-touch with Engage.  Connect with Patrons and keep the sales coming.
Mobile surveys are fast, easy, interactive and they engage audiences unlike ever before.
Send text message coupons or choose our REDEMPTION Widget for beautiful looking ads
our premium features GET YOU MORE SIGN UPS, REFERRALS, AND COUPON REDEMPTIONS.
upgrade to PREMIUM FEATURES
rewards
Reward your customers for referrals, spreading word of mouth, and purchases.
Value back or fixed rewards
automatic issue of rewards
referral program
viral share
Birthday club
Celebrate your customers birthdays with built-in birthday marketing
bUILT-iN BIRTHDAY CLUB
more shoppers
increased avg. sale
by

78%

or more
automation
Send offers, coupons, specials and promos with automaton.
HOLIDAYS
anniversary
thank you
referral
wIfI maRKETING
We'll turn your WiFi into a marketing machine.
Capture customer email address, mobile#s and facebook info

5

X

faster data collection
frequency you can see
exportable customer list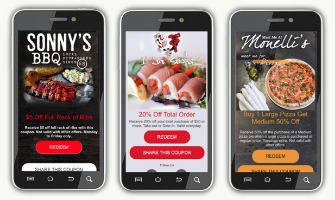 Mobile Coupons
THE NEW MOBILE COUPON
BEAUTIFUL. SOCIAL. Loyalty.
HIGH ROI
Send customers beautiful looking coupons. Track usage and redemption with built-in redemption widget. New Viral Share gives your customers the ability to share your offers. Add driving directions, exceptions and social links.
custom designed
Unique Design for every business. Logos, Locations, driving directions and exclusions
Social
Share offers with friends and family on Facebook, Mobile or shareable links.
Loyalty & Rewards
Built-in Loyalty, Award customer purchases, Load Value to rewards account that is spendable like cash.
High roi
70% of consumers expect to receive offers from their favorite place to eat.
MOBILE KIOSKS = Quick and Easy mobile number capture
CUSTOM KIOSK SOLUTIONS
Bring customers back 3x more often.
We offer KIOSK Displays for your Counter top both swivel and one with a mast, and a floor display with a background vibrant display.  Use your iPad or android tablet or purchase a turnkey KIOSK  

BEAUTIFUL AND MODERN custom design
KIOSK software color matching with your logo and back drops all designed to enforce your brand, offer and promotion.
Build a customer list with ease
Building a customer list is easier than ever with a Digital Mobile KIOSK.  
Track Customer visits
Customer check-in is tracked and automated offers can be sent to customers.

Mobile Marketing Clients and Campaigns
Just a few great clients and promotions
START INCREASING YOUR SALES, REPEAT BUSINESS, CUSTOMER BASE - GET MORE CUSTOMER AND BOOST YOUR PROFITS
Start using MOBILE MARKETING TODAY