Let us send Birthday Parties to Your Restaurant
The National Restaurant Association reports 70% of people dine out on thier or someone else's birthday.

Complete the form and we will help you kick off your own Birthday Club and manage it for you.

Shouldn't they be dining with you?
External Marketing Service
People look for a Birthday card in the mail
Good Business - Good Will
Did you know that 7 out of 10 adults dine out on theirs or someone elses birthday? 
Making birthday parties the #1 dining event, yet many restaurants don't take advantage of this simple yet very profitable marketing opportunity. 

The top 3 reasons why restaurant owners don't have a Birthday Club;
1) Small or No Customer List
2) They Don't have a system
3) Maintenance and execution for business owners.

We solved this problem by creating the Birthday Marketing Suite. A simple, easy to use automated marketing system that builds a list of customers with their birth dates, software that automates sending them a birthday wish and/or gift from the restaurant, a proprietary mailer to local patrons with a birthday, and a continuous follow-up system that boosts repeatable business all in a turnkey platform, best of all its all managed for you so you can focus on your business.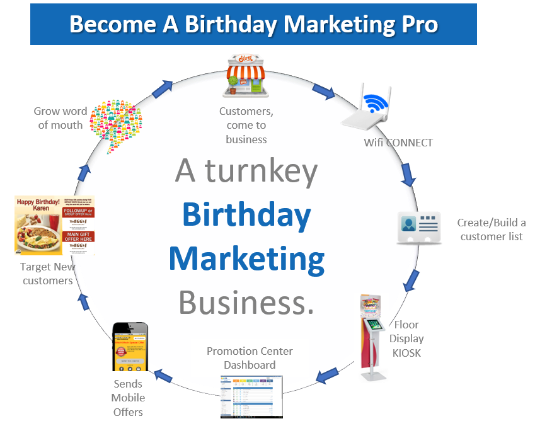 LET US SEND BIRTHDAY GUESTS TO YOUR RESTAURANT
Let us bring Birthday guests to your RESTAURANT
Why wait to grow your business?  Fill out the form to get started.  A business coach will call you, work with you to setup your birthday club, launch and manage it for you.

Ready to Get Started?