MOBILE KIOSKS = Quick and Easy mobile number capture 
THE POWER OF Mobile
loyalty & MARKETING
Bring customers back 2x more often.
Grow your customer list EFFORTLESSLY and without staff involvement! The Loyalty Check-In Kiosk is an easy-to-use tablet display which provides your customers with a user friendly and engaging way to do any of the following:

Build a customer list with ease
Building a customer list is easier than ever with a Digital Mobile KIOSK.  
Track Customer visits
Customer check-in is tracked and automated offers can be sent to customers.
ISSUE, REDEEM, AND TRACK PROMOTIONS AND OFFERS
Send Patrons your offers, redeem with a touch or enter into your dashboard, offers are trackable with campaign manager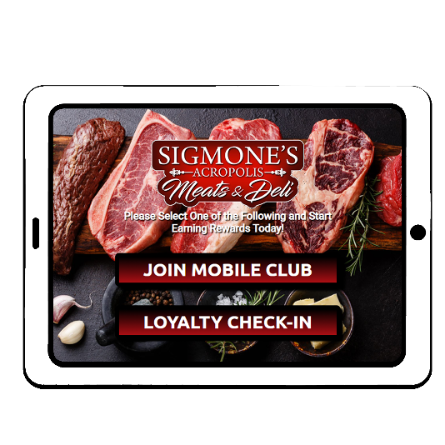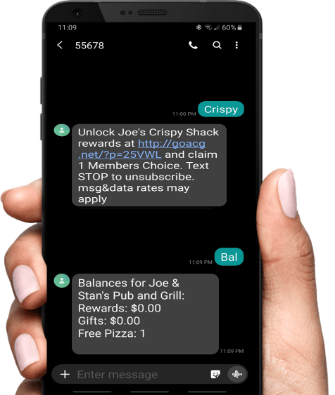 Build your word of mouth, Grow Your Customer List and engage your customers. 
TXT Marketing Drives SALES. 
Schedule mobile text campaigns for driving awareness of new menu items, upcoming events or special deals.

engage your Customers
Customize subscriber lists or schedule blasts to your mobile opted in list within seconds with easy to use interface.
automated promotions
Deliver automated campaigns by text message including: Thank You, We Miss You, happy birthday wishes, thank you notes, and happy holidays to your customer's mobile phones on auto-pilot.
Mobile Loyalty promotion center
With FanCONNECT Mobile you can CONNECT with your customers on the go, send bulk messages, engage customers, and send redeemable coupons to you customer base.
Increase recent and frequent sales, increase how much customers spend, grow your word of mouth and more!
Access your dashboard ANYWHERE and on ANY DEVICE.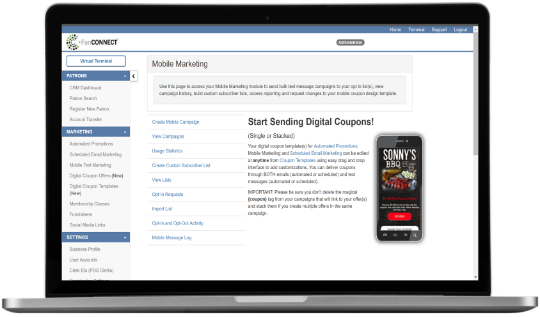 Mobile Loyalty Kiosk
Examples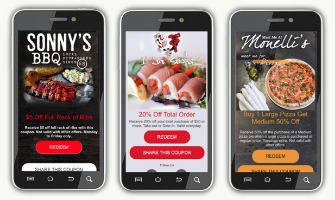 Mobile Coupons
THE NEW MOBILE COUPON
Visually appealing. SOCIAL. Loyal. HIGH ROI
Send customers beautiful looking coupons. Track usage and redemption with built-in redemption widget. New Viral Share gives your customers the ability to share your offers. Add driving directions, exceptions and social links.
Visually apealing
Unique Design for every business. Logos, Locations, driving directions and exclusions
Social
Share offers with friends and family on Facebook, Mobile or shareable links.
Loyalty & Rewards
Built-in Loyalty, Award customer purchases, Load Value to rewards account that is spendable like cash.
High roi
70% of consumers expect to receive offers from their favorite place to eat.
Mobile Marketing Clients and Campaigns
Just a few great clients and promotions
START INCREASING YOUR SALES, REPEAT BUSINESS, CUSTOMER BASE - GET MORE CUSTOMER AND BOOST YOUR PROFITS
Start using
MOBILE LOYALTY AND MARKETING TODAY